Invisalign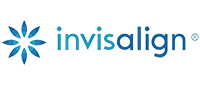 This innovative orthodontic system offers a more discreet way to straighten teeth by using a series of clear, customised aligners. With no fixed brackets or wires, these can be taken out for cleaning your teeth and eating. Each aligner is very slightly different so crooked, crowded or gappy teeth can be gradually moved to an improved position.
Treatment steps
Impressions and photos are taken of your teeth and 3D technology creates a personalised plan which shows how your teeth will move and look following treatment.
When the unique aligners have been produced in a laboratory, you wear a different one every two weeks until the desired result is achieved.
Treatment times can vary but most cases are usually completed within 6-12 months. However, you do have to be sure to wear the aligners for 22-24 hours per day to benefit from successful and speedy results. You will also need to wear a retainer following treatment to keep your newly aligned teeth straight.